News & Announcements:
We are excited to announce that we are planning a trip to the orphanage in July 2017!
The tentative dates are
July 11th-July 23rd**

. If you are interested in joining us you will need a passport, visa, and a plane ticket. The Heart Smiles now offers a travel itinerary and accommodations. You will also need to be up to date with current vaccines and have the Yellow Fever vaccine. Other information regarding vaccines can be found here.
Travel Itinerary and Accommodation Breakdown: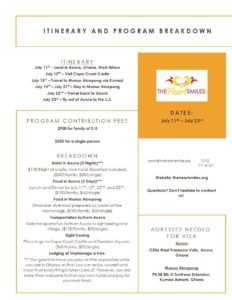 The requirements for a Tourist Visa are:
PASSPORT

: Submit your valid, signed, passport.

APPLICATION

: One Completed Application Form –

Available HERE

PHOTO

: One passport photo (2″x2″) – a recent, official, color passport picture, stapled to the upper right hand corner of the application

TICKET

: Single Entry Visas MUST have a copy of an airline ticket or eTicket, Multiple Entry Visas do not. Ticket must be purchased before a visa can be issued.

PAYMENT

: We accept Money Orders, Postal Orders, and Cashier's Checks – No cash, credits cards, or personal/company checks please.

Single Entry Visa:

$60 – One entry only.

$60 Money order, postal order, or cashier's check made payable to the "Ghana Embassy" for the application fee

Multiple Entry Visa:

$100 – Multiple Visits.

$100 Money order, postal order, or cashier's check made payable to the "Ghana Embassy" for the application fee

RETURN ENVELOPE

: Enclose a Pre-Paid, Self-Addressed, Trackable Envelope – when issued, your visa and passport will be placed in the envelope you provided and mailed back to you. Make sure you write down the tracking numbers from BOTH envelopes.
All information regarding visas can be found here. If you would like to join us and would like more information, please contact Ama Osei-Bonsu at (210) 771-8157.
**Please take note that the date of the trip has been updated.

We are looking for donations to send to Ghana!
We will be sending all of our supplies in March and are still looking for the following:
Gently used to new:
Bath and Hand Towels,    Belts,    Guitars,    Recorders and Other Small Musical Instruments,   DVD's,   Frisbees,   Telescope,   Books,   Pencils and pens,   Coloring books and coloring pencils
New:
Underwear, socks, and undershirts for boys and girls (sizes 8-14/S-L),   Bar soap,   Lotion,   Razors,   Feminine pads,   Toothbrushes, toothpaste, and floss,   Vaseline,   Band aids,   Neosporin, Advil, Tylenol, Alieve and other over the counter medications
We are super excited to announce that will be hosting our first ever Medical Brigade in Ghana in July, and are looking for the following items to help the community:
  Walkers and Canes,   BP Cuffs, stethoscopes, and any other items,  AccuCheck Strips and meters, Prescription glasses and Sunglasses, Band Aids,  Neosporin, Advil, Tylenol, Alieve and other over the counter medications
If you have any donations, please contact us and arrangements can be made to meet with you. Monetary donations are also acceptable and will go towards the supplies for the children.

 Let AmazonSmile for Heart Smiles!
When you are doing your online shopping, please consider using The Heart Smiles as your preferred organization. AmazonSmile gives back a percentage of your online purchase to help organizations, such as Heart Smiles, by donating a portion of their proceeds to help our children. Please click on the link below and enjoy your shopping!

The Heart Smiles would like to thank all of our supporters for coming out and donating to our Third Annual Gala in September! It was a huge success!
Pictures from the Gala will be uploaded on our Events Page, please take a look!
---
---
---
Special thanks to our Sponsors!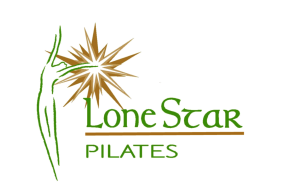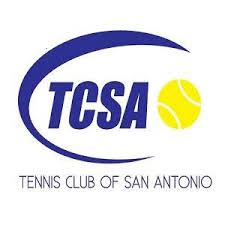 Travis Bell, owner of TW Bell Creative, generously donated his time in designing beautiful invitations, posters, and new brochures for the Gala.  Thank you so much, Travis!  We appreciate your hard work!!
---