News & Announcements:
The Heart Smiles is excited to announce that we will be hosting our first ever 5K walk/run at McAllister Park on March 3rd at 10 am.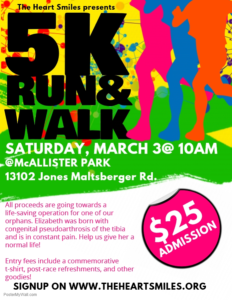 Registration is only $25 and includes a shirt, race bib, snacks, entry into the race, and other goodies. You can register using this link. You can walk, jog, skip, run, and anything in between! This is a family friendly event, so please invite all of your friends and family!
Join our newsletter for a special coupon code!
Please contact us if you or your business is interested in sponsoring The Heart Smiles on the race day, we will put your name or logo on the back of the race shirt. We are in need of donations of water, cups, post-race snacks, swag gear, and t-shirt and bib sponsors.

This year's Gala was a HUGE success! We went over our goal of $20,000 and we couldn't have done it without all you. We are truly so grateful and blessed. Thank you, you make our hearts smile! Pictures from the Gala are on our 'Photo Gallery' page as well as the video shown at the Gala.

We have 7 children available to be sponsored!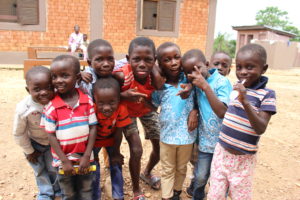 If you are interested in sponsoring one of these lovely children, please contact us!

Want to receive our quarterly newsletter and get exclusive news and deals for our upcoming event?
Visit our 'Join our Newsletter' tab under 'Contact Us' for more information! Our last newsletter will go out later this month!
 

 Let AmazonSmile for Heart Smiles!
When you are doing your online shopping, please consider using The Heart Smiles as your preferred organization. AmazonSmile gives back a percentage of your online purchase to help organizations, such as Heart Smiles, by donating a portion of their proceeds to help our children. Please click on the link and enjoy your shopping!
---