News & Announcements:
Our fourth annual Gala is coming up! Get your tickets now! View the invitation here.
If you have donations for the silent auction, please contact Miranda Richards at (210) 913 – 5157. If you are interested in being a Gala Committee member, please email Ama at ama@theheartsmiles.org.
Pictures from the last Gala are on our 'Photo Gallary' page.

We have 2 children available to be sponsored!
If you are interested in sponsoring one of these lovely children, please contact us!

Want to receive our quarterly newsletter?
Visit our 'Join our Newsletter' tab under 'Contact Us' for more information!

We are excited to announce that we are planning a trip to the orphanage in July 2017!
The tentative dates are
July 11th-July 23rd**

. If you are interested in joining us you will need a passport, visa, and a plane ticket. The Heart Smiles now offers a travel itinerary and accommodations. You will also need to be up to date with current vaccines and have the Yellow Fever vaccine. Other information regarding vaccines can be found here.
Travel Itinerary and Accommodation Breakdown: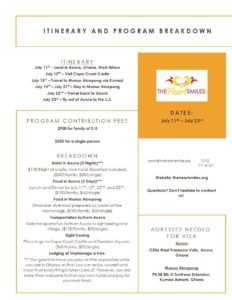 Pdf version: HS Itinerary and Cost Breakdown
The requirements for a Tourist Visa are:
PASSPORT

: Submit your valid, signed, passport.

APPLICATION

: One Completed Application Form –

Available HERE

PHOTO

: One passport photo (2″x2″) – a recent, official, color passport picture, stapled to the upper right hand corner of the application

TICKET

: Single Entry Visas MUST have a copy of an airline ticket or eTicket, Multiple Entry Visas do not. Ticket must be purchased before a visa can be issued.

PAYMENT

: We accept Money Orders, Postal Orders, and Cashier's Checks – No cash, credits cards, or personal/company checks please.

Single Entry Visa:

$60 – One entry only.

$60 Money order, postal order, or cashier's check made payable to the "Ghana Embassy" for the application fee

Multiple Entry Visa:

$100 – Multiple Visits.

$100 Money order, postal order, or cashier's check made payable to the "Ghana Embassy" for the application fee

RETURN ENVELOPE

: Enclose a Pre-Paid, Self-Addressed, Trackable Envelope – when issued, your visa and passport will be placed in the envelope you provided and mailed back to you. Make sure you write down the tracking numbers from BOTH envelopes.
All information regarding visas can be found here. If you would like to join us and would like more information, please contact Ama Osei-Bonsu at (210) 771-8157.
**Please take note that the date of the trip has been updated.
 
 Let AmazonSmile for Heart Smiles!
When you are doing your online shopping, please consider using The Heart Smiles as your preferred organization. AmazonSmile gives back a percentage of your online purchase to help organizations, such as Heart Smiles, by donating a portion of their proceeds to help our children. Please click on the link below and enjoy your shopping!

---