Meet Bruce Badu Frimpong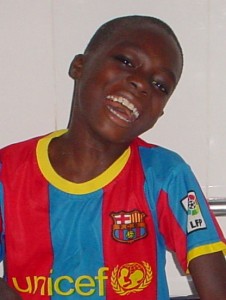 We met Bruce Badu Frimpong on our trip to Ghana in June 2011.
They were shadowing the feeding program on their daily trip to deliver meals. While the children were standing in line, Lindsay (one of our board members) noticed a little boy limping along to get in queue. Daniel, the food program administrator, said he was a new child. Bruce had to walk on the tops of his feet, which were slid into rubber flip flops. His feet were dry and cut from wearing improper shoes. Lindsay noticed that his smile was gone and his spirit almost dead. At that moment, Lindsay made a promise to herself and husband that she would help Bruce.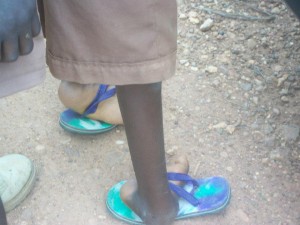 Upon arriving back in San Antonio, Lindsay researched club foot organizations and emailed The CURE Clubfoot program. They gave her some contacts in Ghana and Ama began to make phone calls. Ama was relentless and would not take "no" for an answer. Bruce was finally able to get an appointment with a doctor, but the doctor said his case was too severe. Another doctor was referred and he agreed to perform two surgeries on Bruce. By November 2011, Bruce successfully had his surgery. He spent a few months in rehab and his spirit was reborn. Bruce's heart is smiling again and it is written all over his precious face!
[Best_Wordpress_Gallery id="4″ gal_title="bruce pg"]