We did it!  We were honored to be one of the first non-profits to win the 2013 Top Rated Award from greatnonprofits.org!  Thank you to all of our supporters!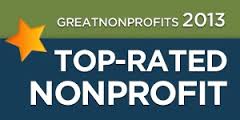 Review from Lisa272 (5 stars): I met Ama Osei-Bonsu at work. She told me about her cause and I was captivated by her passion to give back to her country. I have shared her mission with others; patients, staff, friends, and family. All the compassion and love this organization demonstrates should be an example to the world…if we all pay it forward and remember someone, somewhere did the same for us…we would all be so much better off. Special thanks to Ama for introducing me to this organization and I look forward to working with her and the others in the near future.
Lisa M Zarfas, RN
Review from JMoses (5 stars): As a design professional working with the Heart Smiles Organization in Ghana and San Antonio, I've seen numerous debilitating obstacles arise, yet each time they bounced back stronger and actually lept forward.
I've visited the children at the site and spent time understanding Ama's long term vision and aspirations for not just the organization, but for how children can piece together a sense of family and self identity.
Ama's dedication is unshakable, and nothing will stop her. (Trust me!) Each member of the organization is aligned in the same way, each aligned with the common goal.  
Review from kkaddo40 (5 stars): A special thank you to Ama and these wonderful ladies who have selflessly given the time to provide, and care for these precious little angels. You all are truly making a difference in the lives of these children and your works will continue to be blessed. Keep up the good work.
Review from Becky44 (5 stars): I have recently become a volunteer for The Heart Smiles, I am so happy to have been given this opportunity. I really appreciate the openness to any and all information provided directly by Ama and the board members. I can't wait to travel to Ghana so I can really dig in and help all these kids that are in such desperate need of our basic needs like daily meals, clean water, and of course shelter. I am so fond of this organization I not only donate my time but also money. Knowing this organization I KNOW every penny I give goes straight to those kids – an unheard of thing in this day and age!
And many more! THANK YOU!